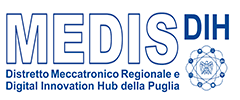 1st Apulian DIH World Community day of MEDISDIH
WHEN: 16th April 2021 – 10.00-12.30
Where: Online, click on the link for the participation!
Or
copy the following address into your browser
https://poliba.webex.com/poliba/onstage/g.php?MTID=e5142901e54aedf348f4f85516057af03
This is a fantastic opportunity to know more about Industry 4.0 and how MEDISDIH can support companies with its services and the networking activities of the European DIH-World project!
Further information on the event available on the dedicated web page !
 ≈≈≈≈≈≈≈≈≈≈
MEDISDIH joins DIH-World Community Days
MEDISDIH, Regional Mechatronics Cluster and Digital Innovation Hub of Apulia Region, as a partner of H2020 "DIH-World" project is organizing its 1st COMMUNITY DAY, which will take place on April 16th, 2021, 10.00-12.30.
The event aims to bring together industry 4.0 experts and best practices.
The Community Day of MEDISDIH will involve several contributions aimed at giving a tangible idea of ​​how the services of the DIHs to support the digitization of the organizational structure of SMEs can be crucial for their business functions regardless of the size of the company and the specific market.
Description of the event
The presentation of the DIH-World project by Dr David Brunelleschi of PWC, will leave the flor to the contribution of one of the world's leading experts in injection fuel systems for endothermic engines Dr. Mario Ricco (Director of MEDISDIH). With his over 50 years ofexperience in the field, Dr. Mario Ricco will illustrate how the Automotive sector has acted as a precursor of the I4.0 organizational model. Subsequently, MEDISDIH will illustrate its services designed to support SMEs digitization. This will be done through the contributions of Prof. Michele Ruta of the Polytechnic of Bari, vice-president of MEDISDIH, and of Dr. Roberta Memeo of Grifo multimedia Srl. Dr Memeo will show the results of the C-LAB 4.0 regional project coordinated by Grifo multimedia Srl that, starting from MEDISDIH assessment of local socio-entrepreneurial needs, has involved representatives from the whole local ecosystem for the development of innovative digital tools for employees training. A regional example of the support that MEDISDIH can provide to local SMEs will then be illustrated by Ing. Piero Larizza, R&D Manager of MASMEC SpA. He will show how MEDISDIH has supported MASMEC SpA in operating digital integration of its products as well as diversification of its core business. Finally, Dr. Alena Buresova of the Czech Institute of Informatics, Robotics, and Cybernetics of the Czech Technical University in Prague will illustrate the activities carried out by the CIIRC Hub, partner of MEDISDIH within the DIH-World project.
The updated agenda of the event is available at the following link MEDISDIH_DIH-World_1st_CommunityDays_agenda_16_04_2021_EN