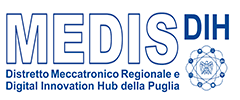 1° Apulian DIH World Community day of MEDISDIH
16th April 2021
MEDISDIH, Regional Mechatronics Cluster and Digital Innovation Hub of Apulia Region, as a partner of H2020 "DIH-World" project is organizing its 1st COMMUNITY DAY, which will take place on April 16th, 2021, 10:00-12:30.
Although we cannot invite you in person to our premises as we expected, we do look forward to seeing you online!
The event aims to bring together gather Industry 4.0 experts and best practices. The Community Day of MEDISDIH will involved several contributions aimed at giving a tangible idea of ​​how the services of the DIHs to support the digitization of the organizational structure of SMEs can be crucial for their business functions regardless of the size of the company and the specific market.
Description of the event
After a presentation of the DIH-World project and the partnership involved in it by Dr David Brunelleschi of PWC, Dr. Mario Ricco Director of MEDISDIH, one of the world's leading experts in fuel systems for endothermic engines with over 50 years of experience in the field, will illustrate how the Automotive sector has acted as a precursor of the I4.0 organizational model. Subsequently, MEDISDIH will illustrate the types of services for the benefit of SMEs it is able to provide and this will be done through two interventions: that of Prof. Michele Ruta of the Polytechnic of Bari, vice-president of MEDISDIH, and that of Dr. Roberta Memeo of Grifo multimedia Srl, who will show the results of the C-LAB regional project coordinated by Grifo multimedia Srl which, starting from the company and social needs expressed by MEDISDIH, has involved representatives of the local ecosystem for the development of innovative digital tools for company training. A regional example of the support that MEDISDIH can provide to SMEs in the Apulian area will then be illustrated by Ing. Piero Larizza, R&D Manager of MASMEC SpA, who will show how MEDISDIH has supported MASMEC SpA in the integration of digitization in its products and in the diversification of its core business. Finally, there will be an international example of good practice in the context of the European partnership of the DIH-World project.
The updated agenda of the event is available at the following link MEDISDIH_DIH-World_1st_CommunityDays_agenda_16_04_2021_EN